Exhibition General Info
2017-03-08 11:32:39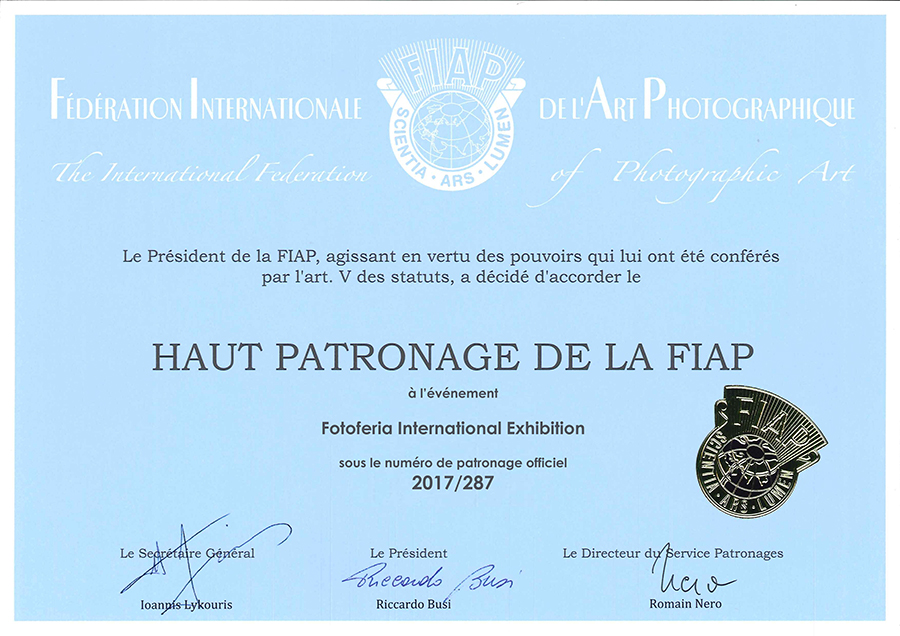 GENERAL INFORMATION
1. To participate in the  Fotoferia International Exhibition you have to be registered at fotoferia.com. To create an account please fill out this registration form.
2. The Fotoferia Website is an Internet service dedicated to photographers. Having fulfilled the requirements included in Regulations, each User may publish his Photographs and comment on Photographs of other Users in compliance with provisions presented there.
3. Participant may submitt 4 photos in each section (color, mono and nature). In case of any problems with registration please send an email to team@fotoferia.pl
    Resolution 1400x1050, max 2 Mb.
4. The Salon will be conducted in accordance with the requirements and practices of the Photographic Society of America (PSA), Fédération Internationale de l'Art Photographique (FIAP) and Polish Federation Fotoklub RP.
5.  Acceptances received by PSA members in approved sections of this exhibition are eligible for PSA Star Ratings, listing in the worldwide PSA Who's Who of Photography, and credited toward the PSA Distinctions PPSA and EPSA. PSA is a non profit organization promoting the advancement of photography in all its forms to novice, amateur and professional photographers worldwide. Acceptances received by Fotoklub RP members  are credited toward the FIAP Distinctions. Previous gallery of accepted photos.
6. Awarded photos will be presented at public exhibitions in Poland and Germany.
7. The photobook size will depends on the budget. If you choose photobook option we can guarantee that your accepted photo will be placed in photobook. Last photobook files http://fotoferia.pl/files/album_1do100_podglad.pdf
8. All awards will be printed on foam boards.
9. Images identical or almost identical to the previously accepted works in all Fotoferia Exhibitions will be rejected. Also it is unacceptable to enter similar images in different sections in the same year.